Scorpion HK-2520-1880KV motor (3.5mm shaft)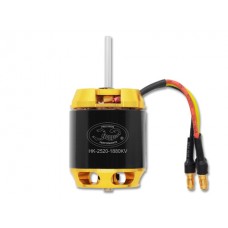 Brand:
Scorpion
Product Code:
HK_2520_1880
Reward Points:
0
Availability:
Out Of Stock
Price: Rp 1,000,000

Scorpion HK-2520 motors have been developed for the 450 class electric helicopters running on 6-cell Li-Po power such as WARP 360. This motor is designed to provide all the power that you can use, while still maintaining excellent efficiency and cool running characteristics. The 3.5mm shaft kit which is specialize for the new generation 450 class electric helicopter.
Scorpion HK-Series Brushless Motors are built from the best materials available, and are designed to provide both quality and performance at an affordable price. Scorpion starts with high quality aluminum alloy parts that are produced on the latest CNC milling machines. These parts are then gold Electro-Coated to provide a beautiful, long-lasting finish. The stators are made with 0.2mm laminations to give maximum efficiency, and minimum Eddy current losses. The stators are epoxy coated to prevent shorts, and are wound with wire that is rated at 180 degrees C (356 F). The magnets used in Scorpion Motors are custom manufactured to be able to withstand high temperatures, making a motor that is virtually impossible to burn up in normal use.
Scorpion Motors are built to last, and are backed with a 2-Year warranty against defects in materials or workmanship. However, due to the high RPM of these motors, and the fact that we cannot control the installation and setup, the bearings are not covered by the 2-Year warranty, nor is any subsequent damage caused to the motor by a bearing failure. Bearings are a normal wear item, and as such, need to be maintained and changed periodically. For maximum life, make sure that a sufficient gap is left between the pinion and main gear during motor installation to avoid binding, and put a small drop of oil on each bearing every 5-6 flights. It is the responsibility of the pilot to ensure that the bearings are maintained properly.
For the best overall combination of quality, performance, and value, use Scorpion Motors in your helicopter!

Specifications
| | |
| --- | --- |
| Stator Diameter | 25.0 mm (0.98 in) |
| Stator Thickness | 20.0 mm (0.79 in) |
| No. of Stator Arms | 12 |
| Magnet Poles | 10 |
| Motor Wind | 8 Turn Delta |
| Motor Wire | 11-Strand 0.25mm |
| Motor Kv | 1880Kv RPM/Volt |
| No-Load Current (IO/10V) | 2.25 Amps |
| Motor Resistance (Rm) | 0.026 Ohms |
| Max Continuous Current | 38 Amps |
| Max Continuous Power | 800 Watts |
| Weight | 104 Grams (3.64 oz) |
| Outside Diameter | 31.5 mm (1.24 in) |
| Shaft Diameter | 3.5 mm (0.14 in) |
| Body Length | 39.6 mm (1.56 in) |
| Overall Shaft Length | 57.50 mm (2.46 in) |
| Max Lipo Cell | 6s |
| Max Peak Current | 50A (2 seconds) |
| Max Peak Power | 1050 Watts (2 seconds) |
| Motor Timing | 5deg |
| Drive Frequency | 8kHz |
Included in the Box
1 x Scorpion HK-2520-1880KV Motor
3 x Female Connectors
3 x Heat Shrink
Write a review
Your Name:
Your Review:
Note: HTML is not translated!
Rating:
Bad
Good
Enter the code in the box below: